from simcoe.com
Alliston Herald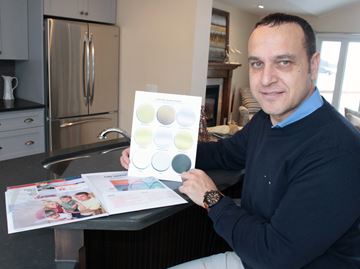 Rural residential fire sprinklers long overdue: Essa fire chiefBrad Pritchard
Howard Sher, executive vice president of sales and marketing with Quality Homes, showing examples of the ceiling caps used in residential sprinkler systems at his company's model home at the Tanger Outlet Mall in Cookstown
ESSA - A Simcoe County fire chief has recently become the leading voice when it comes to the life and cost-saving benefits of having residential sprinkler systems in rural homes.
Essa Township Fire Chief Cynthia Ross Tustin has been working to spread the word about residential sprinklers and why they are so important for rural homes where firefighter response times are longer and water supply is often an issue.
She believes sprinklers in homes are long overdue, noting how modern homes burn a lot quicker than older ones.
While engineered beams and glue-laminated wood products have construction benefits, she said it's a nightmare to deal with during a fire.
"We need sprinklers because people just can't get out of their homes as fast as they used to, because they just burn so darn fast," she added.
Plumbing for the sprinkler system is installed behind ceiling and walls and can be hooked up to a small water tank in the basement, which is fed by a pump connected to a wellhead.
Unlike a commercial or industrial setting, she said a home usually doesn't need more than nine sprinkler heads, basically one for each main room.
She said the sprinklers are recessed into the walls or ceiling.
"They are covered by a cap, and when the cap heats up (it) just pops off," she said. "The caps are painted the same colour as your ceiling or wall, so they aren't sticking out."
She said most insurance companies offer significant savings — as much as 25 per cent — if a home has a sprinkler system, a heat detector and smoke alarms.
Howard Sher, executive vice president of sales and marketing for Quality Homes, which has model homes at the Tanger Outlet Mall in Cookstown, said it can cost upwards of $4.50 per square foot, or about $12,000, to install the systems into an average size rural home.
The cost includes the installation of the pipes, along with the pumping system and water storage tank.
For homes in areas connected to a municipal water system, he said the cost is usually about $4,500 less.
"It's no question that the sprinklers are awesome, it's just the cost that's the issue right now," he said.
However, Ross Tustin said people often spend that much or more on luxury upgrades to their home.
"I'd rather have the faux granite countertop than not have a life-saving device," she said.
She said having more homes outfitted with sprinklers would help reduce firefighter cancer rates and health risks to homeowners since it prevents building materials from burning and releasing toxic fumes.
She is hoping the provincial government will get on board to promote the campaign by offering tax credits.
"We think this is equally important, whatever the incentives look like that's up to government," she said. "We would just like them to get on the bus and help us make it popular, help us draw attention to the issue, because it's time."
Simcoe-Grey MPP and interim PC leader Jim Wilson is supporting the campaign and has asked the province to get behind it as well.
Sher said more fire protection companies are expanding into the residential business, including Vipond, which is planning to set up an information display at the model home centre early next year.
"It will adhere eventually, but in the meantime it is still just an option," he added.
Ross Tustin said a residential sprinkler system is still only one piece of the puzzle when it comes to home fire safety.
"You need a home escape plan, you need working smoke alarms, and you need home sprinklers, it's a three step process, it's not one or the other," she said.